20 reasons why you should start a blog in 2018

You may be wondering why you should start a blog. You are not alone in this, I equally had similar experience, and I also know quite a number of people that had this experience.
Even most business owners and corporate organisations do not know why they should start a blog.
Or maybe you are aware of the the benefits of starting a blog, but you are yet to have that personal conviction that it 's worth the investment of your time and energy..
Today, we'll cover why you need to start a blog in 2018.
The beginning of  a brand new year is usually the time when we set goals and personal aspirations on both professional and personal level.
So, why not take advantage of this personal inclination and challenge yourself to start your blog.
I hope you will be motivated and feel energized enough to start your blog as the brand new year begins after reading this post.
I know the first thing that comes to mind when you think about starting a blog is to make money.
No doubt, this is a principal reason why most people start a blog,  but it's not the complete reason to do so.
There are one thousand and one reasons why you should start your blog in 2018, if you have not started yet. Seriously, you can start a blog and grow it into a profitable business.
It's a challenging feat no doubt to start and run a blog, if you have no prior knowledge of blogging, especially sorting out the tech side.
However, it's worth the time, energy and investment it takes to get it done right..
In order to  help you do it right from the beginning and not get overwhelmed, I have designed an insanely simple guide to start your blog faster than you can imagine.
Seriously, I believe you can set up you blog and get your desired result from it. 
I promise the guide will take you through every step of setting up your blog. The post is packed full with lot of information.
Check here to find out how easy it is to start your blog with my step by step guide.
Moreover, you do not have to start your blog alone. I am here to help you if you run into any difficulty along the way. Just shoot me an email anytime.
Back to our topic, why start a blog? What is the big deal?
I love blogging! So, I can totally help you to answer this question?
Check out my absolutely best reasons to start a blog.
#1.  Start a blog as a marketing tool.
The question is should owners start a blog? I believe they should. If for nothing it's the way they can reach the world globally, and try to educate people of the services they offer.
It also allows you to communicate the strength of your products.
When your blog is used effectively,  it allows your business to engage with current and potential customers in a direct, informal, no-pressure way.
Because of the engaging and collaborative nature of a blog, it allows you to gain insight into the needs and interests of your customers.
#2. Blogging shows the human side of you
and thus help to establish emotional connection with your readers. When this happens you establish better relationships and you also want to give out more to them. The result of this is increased readers loyalty.
The email you send, the social media interaction, even the feedback you get from your readers all help them to be more connected with you.
Most often, these loyal readers turn out to be paying reader. They are the ones that eventually end up paying for your services and products.
Your blog is the most probable place you can cultivate a rewarding relationship with people you do not know.
#3. You can deliver exclusive content.
Because your blog allow you to find your voice, you say it the way it is. For example with your blog, you can share any story, chronicle your life experiences and your skills.
#4. It enhances Self motivation
Another reasons why you should start a blog is that it enhance your self motivation. 
Most times when you start a blog, you face it on your own. You really do not have any boss or colleague to tell you what to do or brainstorm together.
You may be blogging and nobody would appreciate what you are doing. You just need a strong will to continue with what you are doing.
Self motivation is usually generated as you journey in blogging.
Remember, you are the visioner and nobody sees more than you.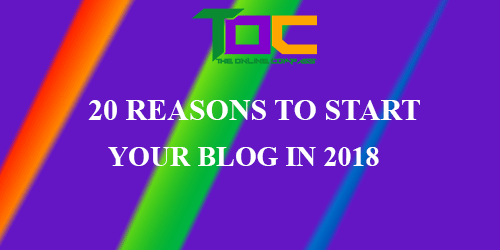 #5. Blogging helps you to define your dreams and set smart goals
Of course, you can use your blog to drive your dreams and aspirations. Because blogging is a way of telling people what you do and showcasing your proficiency.
#6.  Blogging helps you to learn new things
You will definitely learn new stuff when you start a blog. I ventured into blogging without having any technical skills or blogging skills. Back when I got started, I had NO clue what I was doing.
I wasn't sure what worked and what didn't.
But today, I have leant a lot and I am teaching what I know on this blog- Theonlinecompass.com
Blogging encompasses a lot ,  such as  Search engine optimization (SEO) , email marketing, content writing, social media marketing, building a community and monetization.
You can develop skills in each of these areas overtime.
#7. You develop in demand skills
Apart from the core skills above you acquire in blogging, there are other blogging related skills which are in demand that you would also pick up as you go along.
It will surprise you to see how much experience and valuable knowledge you've gained overtime when you start your blog.
Examples of such skills include;  follow-up skills, social networking skills, marketing skills, photoshopping skills web site designing skills, communication skill and  management skills to mention but a few.
These are valuable skills that will be applicable to any area of your life.
#8.  Blogging is a potential tool for the development of your writing skills
Because you'll want to produce better language fluency and correctness.
The reason why blogging improves your writing  is because it keeps you constantly writing, and this is the trick to master writing.
Your reason for not starting a blog right now may be the fear of writing poorly. I can assure you that you really will get better as you practice more.
Blogging won't force you to be a better writer, it will happen as you consistently do it.
I had the fear too, but  I summoned up courage to write.
I know I'm not anywhere perfect yet, but I've seen a lot of improvement since I started.
Certainly, every one of us is wired with the desire to do something better, and  we  face frustration sometimes to gain mastery, but with persistence you will eventually gain a pathway through it.
#9.  Blogging brings out the expert in you, and thrust you into limelight.
It will amaze you to see the great opportunities coming your way as a blogger. Such opportunities include landing a speaking job,  co-authoring a book,  you may also find  joint venture and job opportunities coming your way as blogger.
Blogging really exposes you to the world much the same way Tv and radio personality get exposed.
Believe it all not, when you have what it takes to help and transform people, you become a celebrity blogger.
Your name become synonymous with the solution you are proffering.
So, Select a niche where you have your core competence or you are prepared
 to work hard on it. Work on it, and you're well on your way to becoming the "go to source for information in that niche."
#10 . blogging  is one of the best ways to build relationships with other bloggers
Online entrepreneurs and your readers.
You'll be amazed how fast you meet new people through comment and emails you received from people. And you know what? There is no telling who the person can be.
#11. Blogging establishes as a thought leader.
You become recognized as the an authority in your selected area of specialization.
You become recognised as the an authority in your selected area of specialisation.
You become the  trusted sources who move and inspire people with innovative ideas; turn ideas into reality, and know and show how to replicate their success.
Many leaders have made their make in their industries and have vast knowledge in their areas of specialisation. But only thought leaders see the importance of blogging to inspire people and get their ideas moving.
#12. Developing keystone habits is another reason why you should start a blog.
Duhigg defines keystone habits in the book "the power of habit," as "small changes or habits people introduce into their routines that unintentionally carry over into other aspects of their lives."
Keystone habits springs up other beneficial habits in you.
There are several example of keystone habits.
The habits of keeping schedules, setting goals in blogging also spring up the habits of self accountability in other areas of you life.
Keeping an expense journal  is a keystone habit for good financial planning and positive financial habits.
Another example is walking 10,000 steps a day, this makes us conscious of other health habits, such as the  consciousness  to loss excess weight, eat well, and fitness.
Blogging makes you to develop keystone habits. For example you become more patience because your blog, like any other business requires time to grow, So you have  to be patience.
Blogging also requires time management, dedication and discipline. And all these you acquire as you blog.
One trait you'll find you've developed is "thick skin" to go on positively even when you are being attacked for something you've written on your blog because not every one appreciate that we have unique styles and ways of thinking about thing. These habits and others emerge in you as you blog.
I discovered, that the quest to solve my readers' problems and deliver quality content  everyday has improved my reading and writing habits.
#13. When you start a blog, you become more analytical
You become more analytical because you are observing what your readers care about and you respond to them in a tailor form that best suit them. As your analytical skills improves the quality of the content you develop also improves.
#14. You become creative and a smarter person
Ability to think clearly and create ideas is one of the most difficult things to do.  Bloggers look at a topic from different angle and create multiple articles from it while still keeping it interesting.
#15. You'll generate income from blogging.
Whether you make so little or so much, you generate income from blogging if you know how to monetize your blog.
 Income generated from your blog can be passive meaning it's not directly related to the amount of time you spend. You automate your blog and it keep generating money for years as long as you keep it of value to your readers.
#16. Blogging is cheap to start.
he cost of starting a blog is so cheap particularly when you compare it to other businesses.  For as little as $2.95 per month you can start your own blog.
I highly recommend using wordpress platform for your blog and Bluehost  for your hosting. This is what I use and recommend anything and anywhere.
Starting a blog with Bluehost is really cheap and only costs a few dollars a month.
You will also get a FREE domain name for an entire year when you purchase a 12 month Bluehost plan.
This is a great deal and saves you money!
#17. Your blog can help you get your dream job.
When you get to the point of searching for a job, you need to share your skills, interest and goals.
This is where blogging comes in. Starting a blog gives you the needed professionalism and hard work to launch yourself as an attractive candidate into the position you applied for.
Don't forget I already said above that blogging helps you to be  consistent in learning and writing.
These skills are crucial for getting a job. You will be writing reports, sending mails … just like you do in blogging.
#18. Start a blog to complement your job.
Do you need extra income? Generating extra income is a good reason why you should start a blog.
You can blog part time, combining it with your day job.  Or you may choose to do it full time. Which ever works for you is okay.
Readers have life issues they are struggling with and every good blog provides help to them.
Theonlinecompass.com does this by providing information on how to start a blog and build a successful online business.
Once you start posting content, you will help your readers solve various problems.
I'll encourage you to start your blog to help others with the wealth of knowledge and experience you have acquired in life.
#20. It Let You Have the Kind of Life You Always Wanted
You can transition from your 9 to 5 job to blogging and live a freedom lifestyle.
Imagine, waking up in the morning and not under pressure to rush to work.
How about taking a holiday anytime without having to wait for your leave period. Or do you wish to take long holidays with your family while generating income at the same time?
Believe it or not, blogging gives you these and much more.  
Since I started blogging I have gain control of my time, and this allows me to do whatever I wish.
You can work from anywhere you are. and blog about anything your heart desires- the world is open to you.
The only requirement is that you have an internet connection .  You have the freedom to drive your goals and aspirations.
You can choose to work anytime of the day or night.
And you have absolute freedom to work and make money as it pleases you.
There it is. I've told you why you should start a blog in 2018.
Now tell me what is holding you back.Is it the fear of starting?
I encourage you to start your blog. Start even if you are afraid, start with all your fears and doubts. Do not allow perfectionism become an obstacle in starting a your own blog. Like I said before, I'm here to give a helping hand.
I have also compiled a list of resources  to help you get started. See the list here
I'd appreciate if you could share this post on any social media of your choice using the share buttons on the left of this page above.
If you've started your blog, share with us why you took to blogging. And if you've not, you may also share with us the reason you haven't.
I really appreciate you for visiting my blog.